Aron Baynes is set to make a comeback after nearly being paralyzed in an accident. What will the former NBA Champion look like on the court?
Aron Baynes was a former NBA Champion and one of the best centers in the league. He is attempting a comeback after a terrifying accident that nearly left him paralyzed.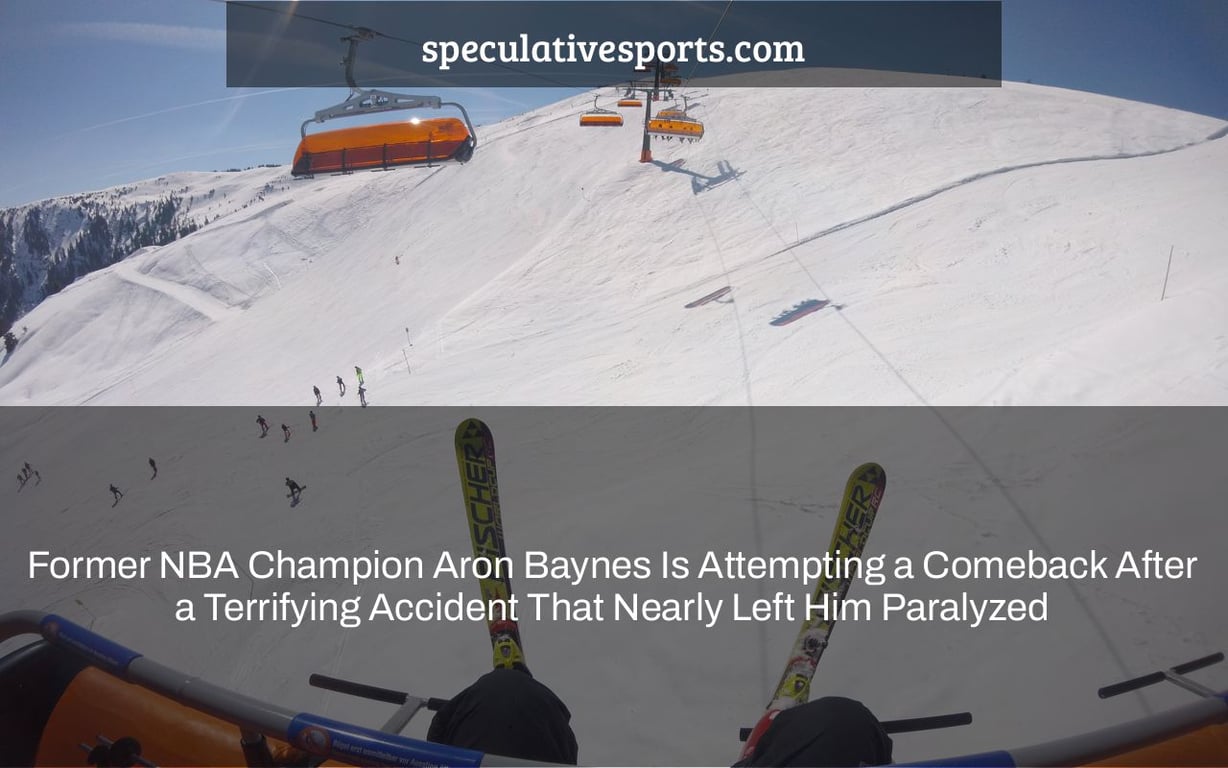 Aron Baynes has nine NBA seasons under his belt, including a title with the San Antonio Spurs in 2014. Last year, while in Tokyo to represent Australia in the 2020 Summer Olympics, the experienced center was engaged in a terrible accident that almost crippled him and may have terminated his basketball career.
However, six months later, Baynes is training harder than he has ever worked in order to return to the NBA.
At the Olympics, Aron Baynes was engaged in a terrifying accident.
Aron Baynes dashed to the toilet before the fourth quarter of a tight game in the Olympics. He never returned. He was in a Tokyo hospital within hours, fearing paralysis, and his NBA career was over.
For the first time, he shares his story: https://t.co/zfjtosnO6f
— Brian Windhorst (@WindhorstESPN) January 27, 2022
ESPN's Brian Windhorst broke the news of Baynes' unexplained injury at the 2020 Tokyo Olympics earlier this week.
After the third quarter of a group stage basketball game between Australia and Italy, Baynes left the bench to use the restroom. However, when the fourth quarter came to a close, he had yet to return to the court.
Baynes was discovered laying on the ground with blood all over his clothing and two puncture wounds on his arm, possibly from the two towel hooks on the wall, by a team member who returned to the toilet to check for him.
Baynes was placed onto a stretcher by a team of medical personnel, but when he attempted to get up to use the restroom, he collapsed again. Medics first feared he had received a concussion as a result of the restroom incident, but it turned out to be much more serious.
Baynes was on the verge of becoming paralyzed.
Australia's Aron Baynes defends against Nigeria in a game | Tim Clayton/Corbis via Getty Images
Baynes began to lose sensation in his legs and left arm less than an hour after being stretchered out of the restroom. He was brought to a nearby hospital for an MRI, which revealed that he was suffering from "internal hemorrhage that was exerting pressure on his spinal cord."
Baynes had trouble speaking with the hospital's Japanese nurses and physicians, so he contacted an Australian neurosurgeon and devised a treatment plan. But he couldn't even stand on his own for over two weeks.
Baynes told Windhorst, "The loneliest period in my life was lying in that hospital, going in and out of consciousness, going through my life plan and my aspirations and just weeping." "My uncle Don was killed in a car accident ten years ago. He's paralyzed from the waist down. My family has firsthand knowledge of how things work. "I was terrified."
After 11 days in the hospital, Baynes was finally able to stand. Soon after, he was able to stack one cup on top of the other. Baynes had to be tied down and sedated for eight hours on his journey back to Australia. He couldn't walk on his own when he returned home.
The NBA isn't going away anytime soon.
Thank you for your help! I'm going to give it my all.
— Aron Baynes (@aronbaynes) January 28, 2022
Baynes spent the following several months in Australia getting physical treatment. He gradually gained enough strength to walk on his own, and he is now able to run without difficulty.
"You wouldn't know anything occurred if you saw me right now," Baynes added. "In the previous six months, we've made a lot of progress."
Despite his terrible health scare, Baynes insists that his objective is to return to the NBA.
"It seems to be a lot more enjoyable now." "That's how I grew up playing, and I'd want to return to that," he remarked. "I've got the desire to get there, and I demand a lot from everyone around me every day."
"I have no idea how the route will turn out, but I'm going to give it my all."
If you're planning on questioning Baynes after the previous six months, you may want to reconsider.
Like Sportscasting on Facebook. Follow us on Twitter @sportscasting19.
Shawn Bradley, a former NBA center, has been paralyzed after a horrific accident.
Aron Baynes, a former NBA Champion and current player for the Boston Celtics, is attempting a comeback after a terrifying accident that nearly left him paralyzed. Reference: aron baynes retirement.
Related Tags
aron baynes neck injury
aron baynes net worth
aron baynes wife
aron baynes nerve damage
aron baynes latest news